Breadcrumb Trail Links
News Local News
Published Aug 04, 2023  •  Last updated 35 minutes ago  •  2 minute read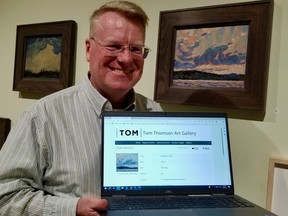 David Huff displays the online entry for "Morning,"the painting beside him at the Tom Thomson Art Gallery. The gallery's Thomson collection of art and related items is now available to be viewed on the gallery's website. (Scott Dunn/The Sun Times/Postmedia Network)
Article content
In honour of Tom Thomson's birthday, the art gallery bearing his name in Owen Sound has announced plans to digitize its entire collection.
Advertisement 2
This advertisement has not loaded yet, but your article continues below.
Article content
To mark the birth 146 years ago Saturday of this local artist of national importance, 70 Thomson artworks and related items in the collection are presented on the Tom Thomson Art Gallery website.
Article content
If you click on the photo of Tom's mandolin, you'll learn a bit about it, including that it was donated by his sister Margaret, and likewise each inviting Thomson painting, in rich colours and often including water or sky prominently.
Many of the Thomson pieces were gifts from Thomson to his brothers and sisters while he was alive, or they were selected directly from his estate after he passed away.
Over the years, his family continued to donate more of his artworks to the gallery, which was officially opened and named in his honour in 1967. Thomson's family members donated 25 of his artworks during the gallery's formative years.
Advertisement 3
This advertisement has not loaded yet, but your article continues below.
Article content
"This makes the gallery's collection of Thomson's artworks the only public collection to be built directly through personal connections with Thomson's family and friends," gallery chief curator Aiden Ware said in a release.
The online collection includes 58 artworks (35 oil paintings, plus watercolours and graphite drawings) and 12 Thomson-related artifacts including his palette, baby cup, shaving mug and more, said long-time gallery employee, David Huff.
Huff said this digitization project was contemplated in 2012 when the software to present it was purchased. He's retiring next year and so getting this project going before he leaves has been a priority for him, he said.
The aim is to have the collection available to people who can't make the trip in person, for people working on projects and to help artists, some of whom use the collection as a subject to reflect on in their own work, Huff said.
Advertisement 4
This advertisement has not loaded yet, but your article continues below.
Article content
Though some works had been presented on the gallery's website before, the current version didn't offer that. Eventually, all 2,600 pieces by more than 500 artists and spanning 165 years will be available for viewing online.
The database includes three Tom Thomson paintings purchased by the Lyceum Club and Women's Art Association of Owen Sound in 1927 from the estate of Tom Thomson.
The collection has also had the support of Grey County Historical and Art Society, the Women's Gallery Committee, the Thomson family, and the many dedicated volunteers, staff and generous donors, the gallery announcement said.
The gallery says it houses the fourth-largest collection of Tom Thomson's artwork and related artifacts, along with works by his Group of Seven contemporaries. Also, it has a substantial collection of contemporary Canadian art focusing on the landscape.
For those planning to visit the gallery in person, enter through the Owen Sound & North Grey Union Public Library and follow the signs on the floor to a door shared with the gallery, due to ongoing construction at the main entrance.
Article content
Share this article in your social network
Comments
Postmedia is committed to maintaining a lively but civil forum for discussion and encourage all readers to share their views on our articles. Comments may take up to an hour for moderation before appearing on the site. We ask you to keep your comments relevant and respectful. We have enabled email notifications—you will now receive an email if you receive a reply to your comment, there is an update to a comment thread you follow or if a user you follow comments. Visit our Community Guidelines for more information and details on how to adjust your email settings.
Join the Conversation
Advertisement 1
This advertisement has not loaded yet, but your article continues below.