Article content
While the Ripley and District Horticultural Society (RDHS) holds no meetings in July and August, its members are anything but on holiday.
Article content
Volunteers worked throughout the summer months to keep the village planters and public gardens looking their best and were aided by township staff with watering and some weeding. 
Article content
A small but dedicated crew worked midweek on "weedy Wednesday" evenings to keep the Lewis and Memorial parks, and municipal office gardens under control.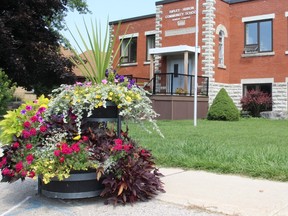 Cascading annuals bring colour and beauty to the main streets of Ripley. Photo by Christine Roberts jpg, KC, apsmc
July 26, RDHS members toured Essentially Lavender Farm and Boutique outside Teeswater and thoroughly enjoyed the beautiful flowers and lavender-based drinks and treats.
Also in July, For Our Youth leader Heather Newman travelled to Ottawa to the annual Ontario Horticultural Association's convention. She received the OHA 2023 Youth Leadership Award from president Charles Freeman in recognition of her dedication and service to young horticulturalists in the Ripley club. This year, Newman takes over leadership of the group from retiring director Tryntje Eisen.
Article content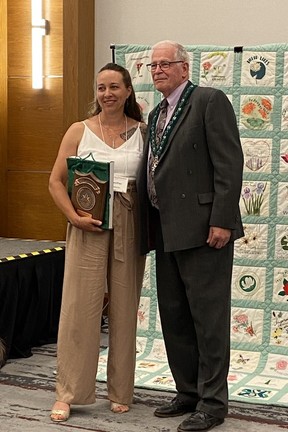 Ripley Horticultural Society For Our Youth leader Heather Newman receives the Ontario Horticultural Association's 2023 Youth Leader Award from OHA president Charles Freeman at the annual convention, July 22. Supplied photo jpg, KC, apsmc
The youth club placed first in the scrapbook exhibit and Joslynn Curran won third with her crop cycle poster at the provincial gathering.
The executive met in late August to review and finalize plans for fall meetings and activities and to discuss plans for the new year beginning in January 2024.
The next public meeting takes place Wednesday, Sept. 20 at 7 p.m. in the social room of the Ripley-Huron Community Centre. The guest speaker will be Karen Redmond, the OHA District 8 director, who will speak about ornamental grasses. 
Guests and visitors are welcome; bring your own mug and napkin for refreshments.
Look for the RDHS float in the Ripley Fall Fair Parade and visit the society's display table inside the exhibit hall.
For updates and to follow the society's activities, visit the Facebook page, @Ripleyhorticulture.
Submitted by Christine Roberts