Breadcrumb Trail Links
News Local News
Published Aug 03, 2023  •  Last updated 28 minutes ago  •  3 minute read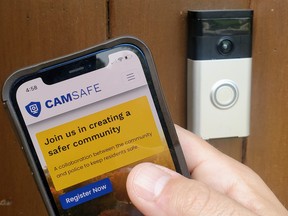 CAMsafe is an online database of video surveillance cameras registered by their owners to assist police gather evidence of crimes. (Supplied photo)
Article content
The OPP is rolling out a new video surveillance camera registry locally for anyone who wishes to share video with police to help them solve crimes.
Advertisement 2
This advertisement has not loaded yet, but your article continues below.
Article content
Grey Bruce OPP is inviting anyone they serve, who has a video surveillance camera, closed-circuit TV or doorbell camera, to register.
Article content
Even once registered, there's no obligation to provide video but providing it would expedite police investigations, said Jeremy Ashley, a Belleville Police Service staff-sergeant who helped found the CAMSafe registry.
The registry is operated by Belleville police, is free for participating police services to use and interest in the police community is growing fast, Ashley said. The registry will likely become a stand-alone not-for-profit organization like Crime Stoppers, he said.
The OPP is just starting to roll the registry option out to its detachments, he said. Peterborough's municipal police service has joined and other services are interested too, he said.
Advertisement 3
This advertisement has not loaded yet, but your article continues below.
Article content
"There has been a lot of very positive interest in this," at presentations he has given. Officers "get it right away and they say, you know what? This will save us so much time and money and effort in trying to locate evidence."
Officers can access the database on their phones in their police cruisers amid an investigation, or see it from their desk computer, Ashley noted.
Grey Bruce OPP spokeswoman Krista Linthorne said the registry will "save the police time not having to go door to door asking if people have cameras."
If there were a break-and-enter at a home on a local street, "the investigating officer could log onto the CAMSafe database, geofence an area and view who has registered a camera in that specific area," she said by email.
Advertisement 4
This advertisement has not loaded yet, but your article continues below.
Article content
"The officer, using the contact information provided, would request the camera footage from the property owner. This will not allow the police to access the cameras."
Those interested are only required to provide basic contact information and camera location but, could include more details if desired, such as direction the camera faces, footage retention details or screenshots of the camera view, Linthorne said. Registrants can only view their own information and can delete their account or change their information at any time.
Ashley said the registry was launched in 2021 but the idea to start it stems from a Belleville police investigation in 2019 in which a transport truck driver smashed into a car containing the driver's ex-partner at her residence, then hit her apartment building.
Advertisement 5
This advertisement has not loaded yet, but your article continues below.
Article content
"A big part of that case for the prosecutor was his driving behaviour beforehand," Ashley said. He and an IT specialist drove the trucker's route for about 10 hours.
"Literally, we were driving around, looking at homes and businesses for cameras and then going in and leaving a business card or touching base with them. You can understand how much time that took."
Ashley said he pursued the registry idea from that experience, then made it happen with the help of a corporate sponsor and a development partner. In Belleville, all of the schools and industries have registered their cameras, he said.
If there were a kidnapping or other incident at a school, "the time savings is very key" and having the registry removes the guesswork out of who to call to access the video quickly, he said. In the school boards' case, their IT people are the contacts. "It can be extremely timely in addition to being time-saving for officers or investigators as a whole."
Ashley said joining the registry doesn't obligate anyone to share video. But police could seek a warrant from a judge to obtain video, regardless of whether or not the camera is listed in the registry.
"With that said, I would suggest 99.9 per cent of the time, the people who sign up for CAMSafe, they want to partner with police, and make their community safer, so they want to help out. And we certainly appreciate that."
To learn more about the CAMSafe program and to register security cameras, visit www.camsafe.ca/.
Article content
Share this article in your social network
Comments
Postmedia is committed to maintaining a lively but civil forum for discussion and encourage all readers to share their views on our articles. Comments may take up to an hour for moderation before appearing on the site. We ask you to keep your comments relevant and respectful. We have enabled email notifications—you will now receive an email if you receive a reply to your comment, there is an update to a comment thread you follow or if a user you follow comments. Visit our Community Guidelines for more information and details on how to adjust your email settings.
Join the Conversation
Advertisement 1
This advertisement has not loaded yet, but your article continues below.