Breadcrumb Trail Links
Sports News Local Sports Local News
Published Jul 27, 2023  •  Last updated 6 minutes ago  •  4 minute read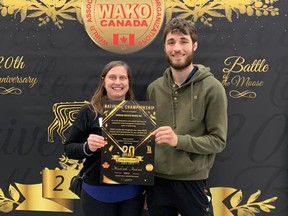 24-year-old Justin Havens is set to compete in the WAKO Senior World Championships being held in Portugal in November after winning at the national level this year. Supplied photo jpg, KC, apsmc
Article content
An area martial arts instructor is aiming to add world champion to his list of accomplishments as he prepares to take on some of the best kickboxing contenders from around the globe.
Advertisement 2
This advertisement has not loaded yet, but your article continues below.
Article content
"I watched the last championship on YouTube and I was thinking, I could actually win this," said 24-year-old Justin Havens, who is set to compete in the WAKO Senior World Championships being held in Portugal in November.
Article content
Havens is competing in the kick light and light contact categories having won in the kick light division at the national level earlier this year.
"At first, I thought if you win at nationals, you would automatically go to worlds, but I found out after that I had to go to a camp in Burlington for a tryout," explained Havens, adding the tryout was based on a points system with each person competing in multiple categories. 
Weighing in at 163 pounds, Havens said kick light is his preferred competition. 
"Leg kicks are allowed and that's kind of my jam," he said. "Light contact is only waist up, so you can kick them in the face or the belly, but there are no leg kicks allowed."
Advertisement 3
This advertisement has not loaded yet, but your article continues below.
Article content
Havens said, although he feels confident in his skills and training overall, he's not immune to performance jitters. 
"I'm always nervous," he said of his energy going into a fight. "You're always risking humiliation."
Havens said, when he was competing at nationals, he focused on the financial cost of competing at the world level as a way to combat his nerves. 
"I lied to myself and told myself I don't care because, if I didn't win, I would save money," he said. "I have to do that for every fight. I have to tell myself something that makes it okay."
Currently based in Tiverton, Havens grew up in Lucknow, attending Lucknow Central Public School followed by F.E. Madill in Wingham. He teaches in Kincardine two nights a week at Now Playing and in Ripley four nights a week at Huron-Bruce Mixed Martial Arts, which he co-owns, training a roster of more than 30 students between the two locations. 
Advertisement 4
This advertisement has not loaded yet, but your article continues below.
Article content
Although he's a serious athlete now, Havens said that wasn't always the case. 
"I played sports, but I never made a rep team or any sports teams in high school," he said. "But now, I made Team Canada for something."
Havens said he is actually grateful for the tough blows he's faced in sports over the years because now he's able to share those experiences to motivate his students and help them keep their own losses in perspective.
"When the kids I teach lose, I can tell them, yeah, I made Team Canada now, but I lost a lot before that," he said. 
Havens said his interest in martial arts grew from watching versions of the sport on television in his youth.
"I was always a pro wrestling fan growing up. Then in high school, when my friends and I started watching UFC, I thought, this is cool. It's like WWE, but it's real," he said. 
Advertisement 5
This advertisement has not loaded yet, but your article continues below.
Article content
Havens said it was around that time Irish mixed martial arts fighter Conor McGregor began to gain popularity. He said the day McGregor took on Nate Diaz was an eye-opening moment for him because he immediately identified with Diaz during the fight. 
"I thought, if he did this, then I can do this because he's just a skinny dude like me," Havens said.
Despite the endless stream of professional fighters he could idolize, Havens said his main inspiration and driving force is his mom, Samantha. 
"She has a very tough warrior spirit," he said. "I've always admired that."
Havens said growing up under the care of a single mother, he witnessed firsthand her strength and resilience as she worked toward her goals, going from waitressing at Mary's Restaurant in Lucknow to eventually taking over the business. 
Advertisement 6
This advertisement has not loaded yet, but your article continues below.
Article content
"No matter if life is good or bad, she's always one foot in front of the other," he said. 
Leading up to the world championships, Havens said his goal is to maintain his current lifestyle and training routine. In addition to teaching classes and his own training, he competes once or twice a month. 
In August, Havens is competing in full contact Sanda at the 4th Pan American Kung Fu Championships in Markham.
Sanda combines traditional kung fu and the modern combat techniques of boxing and full contact kickboxing.
"Sanda is more like UFC, but if we go to the ground, they stand us back up," explained Havens of his upcoming competition. "It's a sport they're trying to grow."
To help cover the cost of representing Canada on the world stage, Havens said he would gratefully accept sponsorships or donations. 
Anyone interested in sponsoring Havens can contact him through email at huronbrucemma@gmail.com.
Article content
Share this article in your social network
Comments
Postmedia is committed to maintaining a lively but civil forum for discussion and encourage all readers to share their views on our articles. Comments may take up to an hour for moderation before appearing on the site. We ask you to keep your comments relevant and respectful. We have enabled email notifications—you will now receive an email if you receive a reply to your comment, there is an update to a comment thread you follow or if a user you follow comments. Visit our Community Guidelines for more information and details on how to adjust your email settings.
Join the Conversation
Advertisement 1
This advertisement has not loaded yet, but your article continues below.