Breadcrumb Trail Links
Opinion Letters
Published Jul 27, 2023  •  Last updated 18 minutes ago  •  2 minute read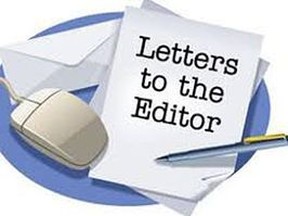 Article content
Do you know what a DGR (deep geological repository) is yet? Do you know who/what the NWMO (Nuclear Waste Management Organization ) is yet?
Advertisement 2
This advertisement has not loaded yet, but your article continues below.
Article content
Where have you been for that last 10 years, more specifically for the last three years? Or are you just tired of hearing/seeing/reading about the NWMO, their ads, news releases and their money contributions that appear in many newspapers. 
Article content
Maybe you are at the point that you just don't care any more.
Do you sign in to the South Bruce Community Liaison Committee (SBCLC) monthly Zoom meetings that are trying to inform you as to what is going on in South Bruce with the NWMO and DGR?
It is usually only NWMO-affiliated technical speakers that are informing you. There are other opinions about nuclear waste out there, but they are not making presentations.
The SBCLC chairman claims that only about 35 to 50 people are signing in (South Bruce has a population of 5,000-plus). 
Advertisement 3
This advertisement has not loaded yet, but your article continues below.
Article content
Do most residents not care about the burying of highly radioactive nuclear waste under agricultural lands and what the South Bruce municipal council is doing? 
Maybe it is time to take an interest for the possible outcome is going to affect everyone, even those in the surrounding communities.
Recently, a selected group of people got to go to Finland to see the progress of Finland's DGR, which is not functioning yet. That project started in the 1980s. This trip was paid by the NWMO. The selected ones from South Bruce are to report on their five-day trip at a future SBCLC meeting. 
It will not be an open public meeting where the general public can ask questions, but a Zoom meeting during a limited timeframe. Would it not be beneficial to hear all the participants' opinions, even the non-South Bruce residents who went on the trip?
Advertisement 4
This advertisement has not loaded yet, but your article continues below.
Article content
Recently, South Bruce residents received a request to answer a survey. The municipal council wants to know what you need to know.
Remember, they have been informing you for the last 10 years and you don't know yet! Is the municipal council and NWMO thinking they are doing something wrong as not enough South Bruce residents are "informed" and "willing"?
A referendum has been promised, but no details as yet. A paper vote, not an electronic vote, is needed. 
People had better find out all the effects that a DGR will cause. If South Bruce is selected, it will be years of disruption in the South Bruce community and surrounding communities. Is this what you want?
S. A. McDonald
Culross/Teeswater
Article content
Share this article in your social network
Comments
Postmedia is committed to maintaining a lively but civil forum for discussion and encourage all readers to share their views on our articles. Comments may take up to an hour for moderation before appearing on the site. We ask you to keep your comments relevant and respectful. We have enabled email notifications—you will now receive an email if you receive a reply to your comment, there is an update to a comment thread you follow or if a user you follow comments. Visit our Community Guidelines for more information and details on how to adjust your email settings.
Join the Conversation
Advertisement 1
This advertisement has not loaded yet, but your article continues below.